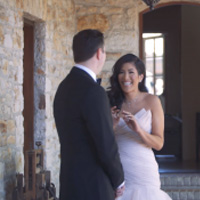 Mandi  – Holman Ranch (June 2017)
Carlos and the IZ Cinema team went above and beyond for our June wedding. When we emailed Carlos about potentially shooting our wedding at Holman Ranch, he immediately set up time to discuss logistics, get a feel for what we were hoping to capture and offer one-of-a-kind creative ideas. He knows the ins and outs of shooting at Holman which helped us create a unique and personal wedding video. The team was in constant contact with us (before, during and after the wedding), which was very encouraging for an overly organized person like myself.
In lieu of an engagement video, we had Carlos shoot a "coming soon" teaser video during our rehearsal dinner. Like most couples, we were a bit uncomfortable in front of the camera at first, but Carlos was able to put us at ease within minutes. We were amazed that he was able to deliver the video within hours of shooting. Just in time to post to Instagram on our wedding eve.
We loved how he took chances trying different lenses/angles to capture the best shot. After the wedding, Carlos worked closely with us to select the perfect music for our video – not too over-the-top mushy love, more understated romance.
We loved working with Carlos and the IZ Cinema team so much that I recommended them for my brother's wedding! Can't wait to see ya in March 🙂
– Mandi – (As seen on Wedding Wire)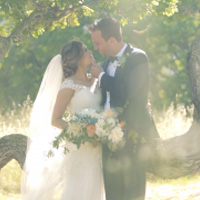 Liz  – Holman Ranch (April 2017)
I can't even begin to say how fantastic my experience was with Carlos. I researched a LOT of different videographers and looked at different videos, and none came close to the quality that Carlos with IZ Cinema produces. Videography was something I decided to add on only a few months prior to my wedding. I wasn't originally planning to do it primarily because of cost. However, I am SO glad I ended up moving forward with it and hiring Carlos. Not only was he an absolute pleasure to work with (very detail oriented, responsive, professional and talented), but the videos that he created are unbelievable. He had my new husband and I in tears (of joy!) after we watched the first wedding highlights video, and our friends and family could not be more impressed. On your wedding day, events come and go so quickly – there is so much excitement and it's hard to soak it all in. Thanks to IZ Cinema, I now have every single moment captured so beautifully and we will treasure these videos forever. I can not say enough positive things about my experience – I highly recommend Carlos to anyone!
Liz – As seen on Wedding Wire – IZ Cinema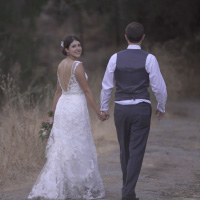 Erika & Michael  – Mission San Juan Bautista (September 2016)
We were very happy with the services provided by Carlos. He is not only a great artist but a remarkable person. He is patient, flexible, and detail oriented. The end product was unbelievable and he went above and beyond to ensure that we felt supported throughout the process. I would certainly recommend Carlos Izquierdo to anyone looking for a videographer.
– Erika – (As seen on Wedding Wire)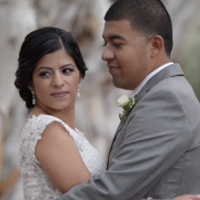 Ana & Jorge  – St. Vincent's San Rafael (September 2015)
We cannot thank Carlos enough for doing such an amazing job creating our wedding film. We absolutely LOVED it! He did such an incredible job capturing special moments from our special day. Not only did he create the an amazing wedding film, but he also made us a beautiful engagement film. Carlos was so friendly and was truly, a pleasure to work with. He was very responsive, attentive and friendly. He made the whole process fun and exciting. We are so blessed have had the opportunity to have work with him.Hiring Carlos as our wedding videographer was one of the best wedding planning decision we made! We highly recommend Izcinema for anyone who is looking for an amazing videographer!  
Ana – (As seen on Wedding Wire)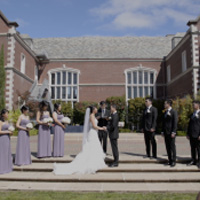 Denise & Elliot  – Kohl Mansion (August 2015)
Carlos was the videographer for our wedding in Aug 2015. We really enjoyed working with him and would recommend him to anyone looking for an excellent and professional videographer!
He was wonderful to work with because of the following:
1) Carlos was great with communication, he was reliable, and he was overall a great guy – He would call, email, and text with responses VERY quickly. This mattered a lot to me when I was looking for wedding vendors. He would call at the promised time and he would show up at the correct location. About 2 weeks before the wedding, we spoke in great detail about the schedule; we had a lot to iron out because he would be filming in 3 different locations (hotel, ceremony, and reception). 4 days before the wedding, we shot a Save the Date video. This was the first time we met him. He went over how to pose, where to stand, what to do, etc. We could tell how passionate he was about his work. We felt very comfortable!
2) His toys – Carlos has A LOT of really neat equipment that he works with. The aerial shots that he acquired were particularly incredible (done with a drone!!!). I don't know the names of all the different ones, but he has mastered when to use each tool for what purpose.
3) Carlos' work is amazing and it speaks for itself! He has a way with music selection. He doesn't pick mainstream top 40 songs. He'll find less known songs that work perfectly with the video. He pieced together a really well done, professional video of our wedding. It captured the emotions throughout the day and turned it into a motion picture. We plan to watch it over and over again.
Alyssa & Cory  – Kirigin Cellars (July 2017)
Carlos exceeded our expectations in every way! From our save the date video to our wedding day – we could not have asked for a better experience. The connection we made with Carlos was almost instantaneous – after our first meeting we knew he was going to be so much fun to work with. On our wedding day, he truly made us feel comfortable, knew exactly how to make us laugh, and went above and beyond to produce the most beautiful video capturing our special day! We are so grateful. Thank you Carlos!